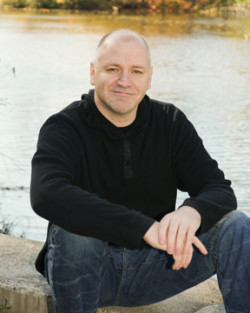 Sye Ten Bruggencate. was born and raised in Toronto, Ontario Canada, and now resides in Dorchester, Ontario. He grew up in a loving Christian home, and is the 5th eldest of 7 children. His parents immigrated from The Netherlands (his Father was born and raised in a Dutch colony in Indonesia), and he can speak conversational Dutch fluently.
All his life Sye felt a need to share his faith. While evidences and testimonies are useful in sharing one's faith Sye discovered that they were inadequate for a defense of one's faith (apologetics). He learned that attempting to give evidence, or touchy-feely testimonials to people who claim not to have enough evidence for God, is to be fooled by them.
It was after listening to the debate between Dr. Greg Bahnsen and Dr. Gordon Stein (dubbed "The Great Debate") that Sye was introduced to the world of "presuppositional apologetics." Most of his studies on apologetics have been through audio lectures given by the late Dr. Bahnsen.
In June of 2006 Sye published this website and in May of 2008 seeing an ever increasing need for a Biblical apologetic, Sye left his work as a Stationary Engineer in the automotive industry to pursue teaching apologetics full-time.
While he has engaged, and continues to engage professed unbelievers on the streets and in formal debates, Sye now directs his efforts mainly to equipping Christians for defending their faith.
In April 2013 Sye released the film "How To Answer The Fool," (download available here) and in February 2015 released the film "Debating Dillahunty." He has taught the subject throughout North America, and in the U.K. Contact Sye to arrange a speaking engagement in your city.
Sye is a member of the Associate Reformed Presbyterian Church, and by God's grace alone, he is a Christian.